Brew Days
Brewing an Award Winning Belgian Dubbel XL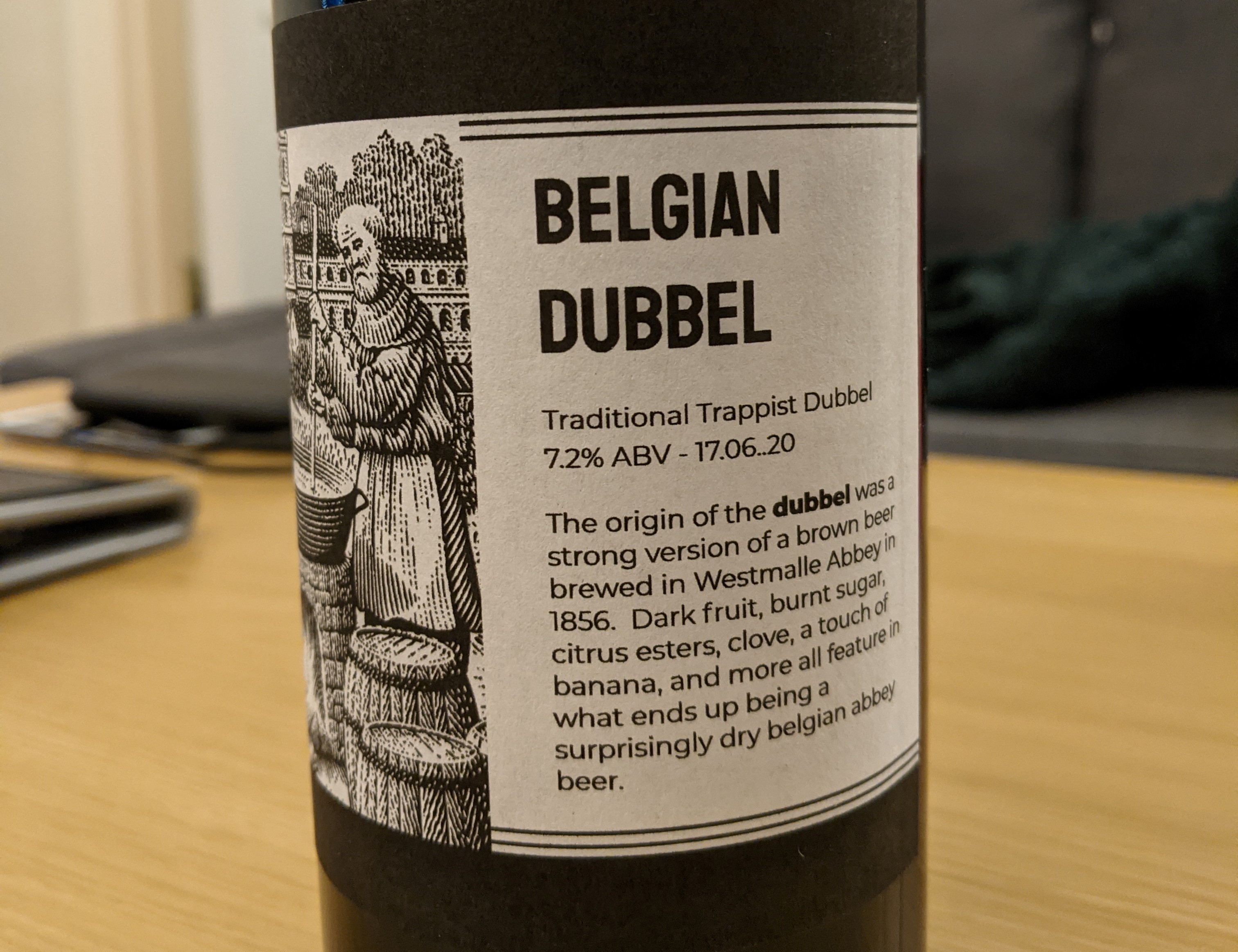 I'm a big Belgian fan and one of my absolute favourites is the classic Dubbel. They say that the name 'Dubbel', along with 'Tripel' and 'Quadrupel', had to do with the amount of sugar that went into the beers when monks were brewing. Each cask was supposedly marked with 1, 2, 3 or 4 notches to indicate if it was single, double, etc. 
However, I'm having a very hard time confirming this story as fact. What is fact though, is the Dubbel originates from Westmalle Abbey where a strong dark beer was brewed in 1856, which then went on sale to the public in 1861. It's a wonderful, complex malty beer with caramelised sugar creating flavours of chocolate, rum or dates. The hop bitterness is quite mild, and there mainly in the background.
It's one of my favourite beers available, I've had the chance to try a number of them including the Rochefort 6, 8 and 10. There are great Trappist options as well as commercial brews. 
Being one of my favourites, I wanted to find a great recipe for my first Dubbel (and the first full brew with my BrewPiLess fermentation chamber). Having a look on Homebrewtalk I found the 'Award Winning Dubbel XL' recipe. Reproduced here:
10 lbs Belgian Pilsner
2 lbs Belgian Caramunich
1 lb Belgian Special B
.25 lbs Weyermann Carafa I

0.75 oz Styrian Goldings (Pellets, 6.00 %AA) boiled 60 min.
0.5 oz Hallertau Hersbruck (Pellets, 4.50 %AA) boiled 20 min.
0.5 oz Hallertau Hersbruck (Pellets, 4.50 %AA) boiled 5 min.

1 lb Dark Candi Syrup

1 vial White Labs WLP530 Abbey Ale

Mashed 60 mins at 154.
I did modify this recipe a bit below based on what was available to me.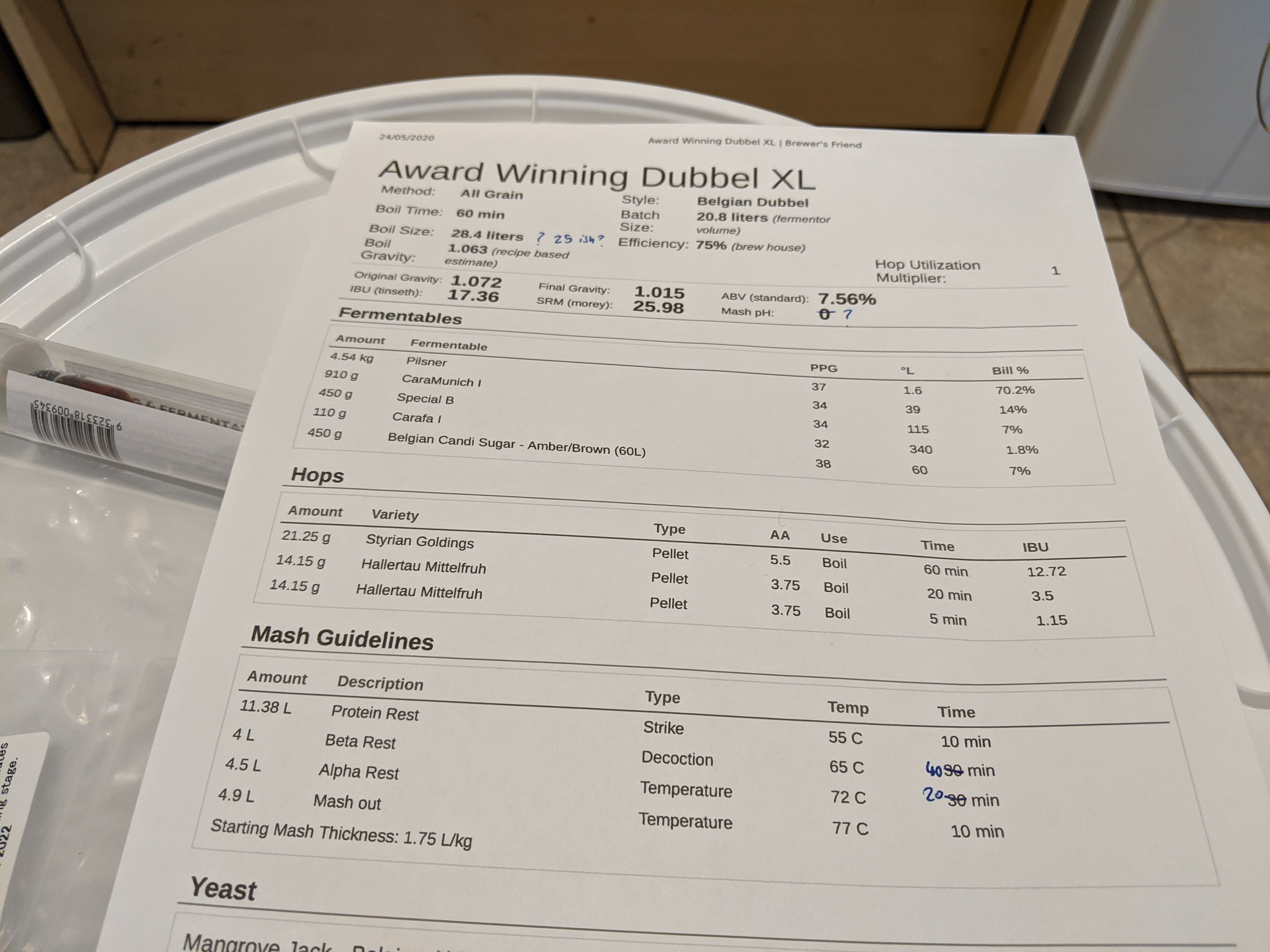 I took the mash schedule from Brew Like A Monk based on traditional Trappist and Belgian brewing techniques.
The brew day went along really well, it was only the 2nd brew I'd made after coming back to brewing and the first time with the full BrewPiLess fermentation chamber set up. I had to substitute Syrup for hard rock sugar, and instead of using the recommended liquid yeast, i used the Mangrove Jack M47 Belgian Abbey Yeast.
Fermentation was conducted over two weeks, starting at 18c and raised to 22c over the course of 1 week then held at 22 for the second week. 
After this I cold crashed to 4c for another week before bottling. For this brew I decided to bottle in swing-top 750ml heavy bottles to give it a bit more of a Belgian feel. 
They came out amazing, a delicious beer that is a rich brown, very nicely cleared from the cold crash. There are hints of chocolate, malt, dates and a little background of bitterness. It's reminiscent of a Rochefort 6 but a just a bit less sweetness. If you're looking for a great dubbel to try, give this one a shot! Everyone I've shared a glass with loves it and comes back for more.
Brew on!